The Vineyard
Hatherleigh was planted by Nick Bulleid between 1996 and 1999.  The vineyard grows only Pinot Noir grapes. It lies at 910 metres altitude on an east facing slope of red cracking clay overlooking the village of Laggan, near Crookwell, in the Southern Tablelands of New South Wales. The climate is cool continental, with mild summers and several snowfalls in winter.
The Wines
2009 Hatherleigh
The spring was wet, with the November/December period double average. Apart from warm weather either side of budburst – 1st October – temperatures were close to normal. A mild frost in October reduced the yield somewhat, and then a hail storm during flowering on 15th December tore off many potential berries. After New Year the weather was generally drier, with warm temperatures and only one brief hot spell in early February. We picked in mid April. The yield was about 25% of target.
This is the best wine since 2005 and was reviewed beautifully by Jancis Robinson MW in The Financial Times.
2008 Hatherleigh
The season started with a very dry spring, but things improved from November. It was overall another warmer than average year, although the December to February period was cool, particularly February. We picked on 30th March – the earliest ever – and 6th April. The yield was a little more than average, about 5 tonnes per hectare.
The wine has our greatest use of whole bunches to date, about 30%. This shows in its sappy aromatics and the firm cut to the tannins.
Light to mid garnet-red colour. Complex nose with red cherries, a sap-like fragrance from grape stems, cigar box and a hint of five spice. Medium bodied palate, with red fruit flavours and cedary complexity from bottle-age. Light but firm tannins on the finish, which soften considerably with breathing. The 2008 is now mature, but will drink well until at least the end of 2015.
2007 (non) Hatherleigh
This was the warmest year to date. The steadily warming climate each year was worrying. Spring was extremely dry. Frost, frost again, drought and bird damage hit the vines hard. (There was little else for the birds to eat. Currawongs tore holes in the nets and foxes enlarged them to get to the carcases our terrier Poppy left lying around).  Occasional scattered storms in February and March saved the day and kept the vines healthy. We picked a little more than half our normal crop on 15th April.
The wine promised much when young, but began to show the flavours of stressed vines and grapes as it developed in bottle. It has not been released under the Hatherleigh or Laggan labels.
2006 Hatherleigh
November was cool, but overall this was a warm season with a very warm February and March. November and January were very wet, but an appallingly dry autumn followed. It was a struggle to keep the vines healthy from February to April. The grapes were picked, in retrospect a week late, on 17th and 23rd April. The yield was close to average. A small amount of wine that didn't meet the cut was released under the Laggan label.
The wine has more weight and body than other vintages and has softened well. Light to mid garnet colour. Ripe red plums with hints of cigar box and spicy, earthy characters that have developed with bottle-age. The palate is full-bodied for Pinot noir, with plenty of soft tannins. It is now fully mature, but will hold in bottle past 2015.
2005 Hatherleigh
Spring temperatures were close to average and were accompanied by higher than normal rainfall. The summer was relatively dry, but with enough useful rainfall to maintain healthy vines. Temperatures were a little higher than usual, with a cool March and a very warm April.
The season produced my best wine to date, which included most of the grapes from the 1999 planting. We picked on 25th April and 1st May. The wine shows a distinct family resemblance to the 2004, but has greater vine maturity and sweet fruit. It was released in late 2008, is now fully mature but, in mid 2014, is still drinking well.
Hatherleigh Pinot noir 2004
The growing season was warm, after a bitterly cold October, with enough rainfall to maintain vine health. The grapes were picked on 25th April and 2nd May. This is a very stylish, finely structured Pinot with red plum flavours and the silky tannins and rich, plump middle palate I'm looking for. It finishes with good length of flavour. It will age well, gaining more complexity until at least 2010. A great accompaniment to duck and flavoursome poultry dishes.
Hatherleigh Pinot noir 2003
Spring and summer were warm and dry, but there was good rain and cool weather in autumn.  The grapes picked on 6th and 14thApril. The earlier pick was affected by a road accident, the loss of some grapes and about 30% of the juice, which has resulted in a firm tannin structure. It has full, savoury flavours and a robust tannin finish. The full flavours and firm tannins match steaks and richly flavoured beef and lamb courses.
Laggan Pinot noir 2002
The weather was broadly average during the growing season but with a deluge in February and an unusually warm April. The grapes were picked on 28th April. The wine appeared to lack weight when bottled, but it has surprised us by developing real perfume and depth of flavour. The tannins are soft and the wine is fully ready for drinking.
It goes well with any red meats, but is best with poultry dishes.
Reviews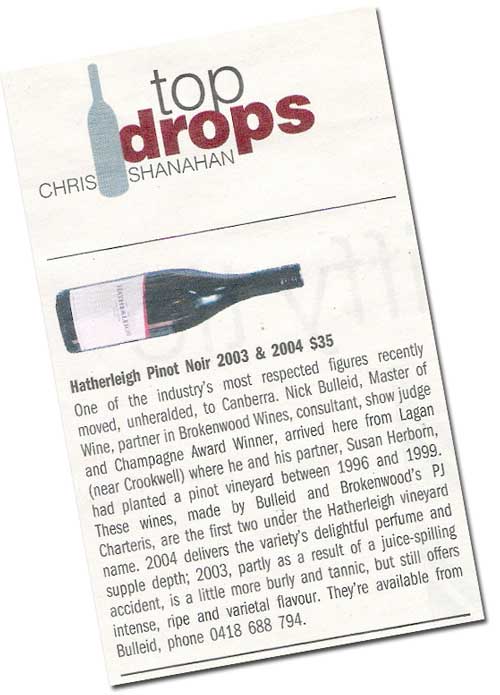 Availability
All wines are sealed with screwcaps.
All wines are available by arrangement through the vineyard at 35 Redground Heights Rd, Laggan, 2583, or by contacting Nick Bulleid.
Additional information